IF NEWSPAPER ENDORSEMENTS decided elections, Dan Winslow would have romped to victory in yesterday's Republican US Senate primary. Instead he came in last. Gabriel Gomez cruised to an easy win, and will be the party's nominee in the June 25 special election to succeed John Kerry.
Six Massachusetts dailies had made endorsements in the GOP primary, and all six – The Boston Globe, Boston Herald, Lowell Sun, Fitchburg Sentinel, Eagle Tribune, and Springfield Republican – had come out for Winslow. That was a "political grand slam," crowed Winslow's campaign. It was a "game changer."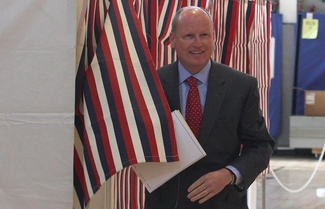 Dan Winslow racked up newspaper endorsements, yet finished a distant third in the GOP US Senate primary.
Apparently voters were working from a different game plan.
Political candidates avidly pursue media endorsements and proudly trumpet those they land. But Winslow's fate is a reminder that endorsements generally matter a lot less to voters than they do to the politicians who crave them. Particularly when it comes to high-profile races – senator, governor, president – how many voters need their newspaper editorial board to tell them what their opinion should be? Citizens in the Internet age can access political news, analysis, and advocacy from an almost limitless array of sources. Few of them are waiting for their local newspaper to pronounce, from atop Mount Olympus, which candidate the gods have chosen to bless.
Winslow is intelligent, inventive, and interesting; it's easy to understand his appeal to the publishers and pundits who write political endorsements. But opinions expressed on the editorial pages alienate readers, too. According to Larry Powell, an expert in political communications at the University of Alabama at Birmingham, newspaper endorsements often hurt their intended beneficiaries, reducing support in the polls by as much as 3 percent.
Traditions die hard in journalism, but political endorsements are one tradition that ought to be laid to rest. When a newspaper takes sides in an election, it can't help but provoke some readers into questioning its credibility. That wouldn't be a price worth paying even if endorsements influenced voters. As yesterday's results once again made clear, they can't.
(Jeff Jacoby is a columnist for The Boston Globe).
-- ## --
Follow Jeff Jacoby on Twitter.

"Like" Jeff Jacoby's columns on Facebook.