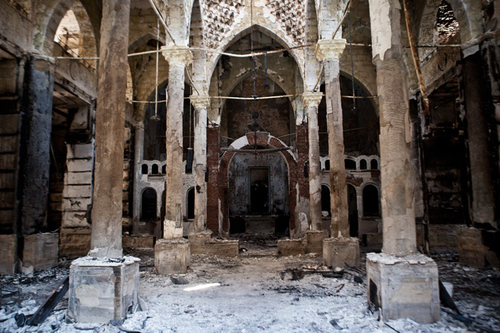 The Amir Tadros Coptic church in Minya, some 150 miles south of Cairo, was reduced to a ruin after being set ablaze on August 14. Across Egypt, a wave of anti-Christian attacks has destroyed scores of churches, monasteries, and schools.
DURING A VISIT last week to Dachau, the former concentration camp near Munich, German Chancellor Angela Merkel laid a wreath in memory of the tens of thousands the Nazis murdered there. The memory of their fate, she said, "fills me with deep sadness and shame."
Dachau — the original concentration camp, established in March 1933 — radiates a constant reminder about the bottomless human capacity to commit evil, or to look away when evil is committed. "How could Germans go so far as to deny people human dignity and the right to live?" Merkel asked. "Places such as this warn each one of us to help ensure that such things never happen again."
Never?
As Merkel spoke, Copts and other Christians in Egypt were reeling from a wave of attacks more savage than any in modern Egyptian history. Islamist mobs across the country torched scores of churches — some more than 1,000 years old — along with convents, monasteries, and Christian-owned homes and businesses. A Franciscan school near Cairo was looted and burned, said Sister Manal, the principal; then she and other nuns were paraded through the streets "like prisoners of war" to the jeers and abuse of the mob.
Merkel's speech also coincided with the latest evidence of a chemical-weapons attack by the regime of Syrian dictator Bashar al-Assad. Graphic video clips posted online by anti-Assad rebels east of Damascus showed rows of corpses, including those of women, children, and babies. Hospitals in the area described a sudden influx of patients gasping for breath and suffering from convulsions, nausea, and vomiting — symptoms consistent with chemical-weapons poisoning. The humanitarian group Doctors Without Borders put the death toll at 355; other estimates ranged far higher. The massacre took place one year to the week after President Obama's warning that any use of chemical weapons by Assad would be a red line. In fact, as even the Obama administration has conceded, Assad crossed that line months ago. Last week's attack was not the first, only the most brazen.
While Merkel was recalling the lessons of history in Dachau, a United Nations commission of inquiry was holding hearings on human rights abuses in North Korea. Survivors of Pyongyang's ghastly network of slave-labor camps recounted the horrors that take place there: starvation, torture, rape, public executions. There is nothing secret about the camps' existence or location; detailed satellite images have long been available in the West. So have accounts of unspeakable atrocities the North Korean regime inflicts on its victims. Among those testifying before the UN panel was Shin Dong-hyuk, who spent the first 22 years of his life in the North Korea's notorious Camp 14 before a miraculous escape in 2005. Shin told the harrowing story of a six-year-old girl, a classmate, who was publicly beaten to death by her teacher for stealing five kernels of corn. Other witnesses testified to other savageries, from forced abortions to medical experiments performed on dwarfs.
Shades of Auschwitz. Of the Gulag. Of the Cambodian killing fields.
"Can this really be happening? In the 21st century?" exclaimed the Israeli columnist Ari Shavit as news broke last week of the latest chemical-weapons attack in Syria. "No decent person can ignore what's happening."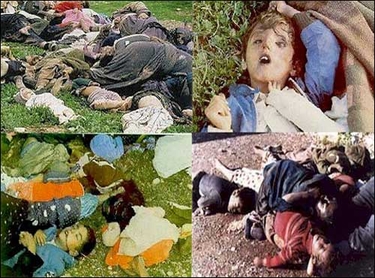 Victims of the chemical-weapons massacre in Halabja, a town in Iraqi Kurdistan, in March 1988. The attack, part of Saddam Hussein's genocidal Anfal campaign against the Kurds, killed 5,000 civilians and blinded or injured more than 7,000 others.
That's what we always tell ourselves when "never again" turns into "yet again." But man's inhumanity to man is no more unthinkable in the 21st century than it was in the 20th. Decent people can and usually will ignore what's happening, and the indecent count on their apathy.
"Who, after all, speaks today of the annihilation of the Armenians?" Adolf Hitler is said to have remarked in 1939.
There are always reasons not to act in the face of a growing evil. There are always reasons to believe that atrocities are being overstated, or that tyrants can be persuaded to reform, or that common sense will prevail, or that meddling in the "internal affairs" of others will only make things worse. Then we are shocked to find we have enabled monsters.
The burning of houses of worship didn't end with Kristallnacht, nor the gassing of civilians with Halabja, nor concentration-camp butchery with Dachau. And we aren't finished building memorials to the dead, and solemnly declaring, as we lay our wreaths, that next time we won't forget the lessons of history.
(Jeff Jacoby is a columnist for The Boston Globe. His website is www.JeffJacoby.com).
-- ## --
Follow Jeff Jacoby on Twitter.

"Like" Jeff Jacoby on Facebook.