.
Francis (n.): The papacy is the oldest continuously functioning institution in history, but it can still surprise.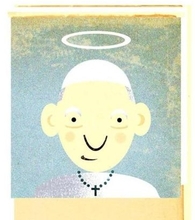 When Benedict XVI resigned on Feb. 28, he became the first living ex-pope in nearly six centuries. Never before had a pontiff relinquished the Fisherman's Ring for reasons of health. Benedict's decision to do so contrasted vividly with his predecessor's long and painful decline.
But that was just the beginning of the year's papal surprises. When white smoke rose above the Sistine Chapel on March 13, the Catholic Church had, in Jorge Mario Bergoglio, its first pope from Latin America, its first Jesuit — and the first to choose the name Francis. The symbolism was unmistakable: The new pontiff was evoking one of the most beloved Christian saints, the humble and loving Francis of Assisi. At that moment, Pope Francis telegraphed the shift in style — less grandeur and pride and dogma, more modesty and compassion and outreach — that quickly became his hallmark, and the talk of the world.
(Jeff Jacoby is a columnist for The Boston Globe).
-- ## --
Follow Jeff Jacoby on Twitter.

"Like" Jeff Jacoby's columns on Facebook.