When a racist slur was spray-painted on the home of a biracial Lunenburg High School football player last month, the reaction was predictable.
Hundreds of neighbors attended a candlelight vigil in support of 13-year-old Isaac Phillips and his family. Politicians and civic leaders expressed solidarity. The Lunenburg police — assisted by the FBI, the Massachusetts State Police, and the Worcester County DA's office — opened an investigation. The school superintendent forfeited the football team's remaining games and asked the Anti-Defamation League to provide educational materials for teaching tolerance. Editorials warned that "hatred and racism corrode communities," and emphasized the need to "take a vocal stand against intolerance."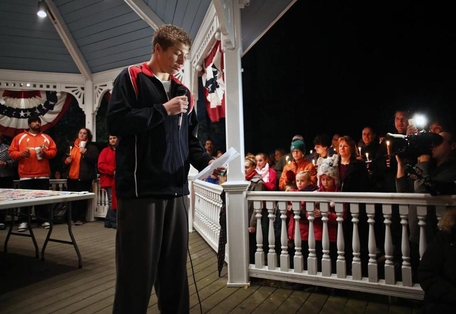 Lunenburg High School football player Isaac Phillips read a statement at a candlelight vigil that was organized to respond to racist graffiti painted on his house. Police now suspect the boy's mother of having painted the racist taunt herself.
Then, after two weeks of eating their heart out over the apparent bigotry festering in their midst, Lunenburg's residents learned that the "hate crime" was most likely a hoax. The football team had nothing to do with the odious graffiti painted on the house, police said. Instead they suspect the boy's mother, Andrea Brazier, of having painted the racist taunt herself.
An act of hatred that turns out to be feigned? That too was predictable.
Media accounts describe Lunenburg residents as "stunned" and "floored" by the news. They shouldn't have been. Faked-hate hoaxes happen often.
Some recent examples:
By now there is a long history of hate-crime hoaxes; Lunenburg appears to be merely the latest example.
Hatred and bigotry really do exist, of course. Every society has some lowlifes and bullies. But by and large, America's racist past is dead and gone. This is not a nation that conspires to keep blacks and women down, let alone to terrorize or humiliate them. It is precisely because America is no longer steeped in racism that those who believe it is keep resorting to fakery. And even when they do, what is the result? Great outpourings of sympathy and solidarity — neighbors by the hundreds coming together in candlelight vigils, strangers donating thousands of dollars to a waitress they've never met.
With racial oppression vanishing from American life, being seen as the victim of racial oppressors can be powerful source of acclaim and attention. That's especially true on the left, where practitioners of identity politics insist on sorting people by groups — racial, ethnic, sexual, economic. Phony accusations of racism empower those whose identity revolves around a feeling of persecution. Oprah Winfrey recently told the BBC that such persecution will persist until older generations "bred and marinated" in prejudice and racism have died off.
But as Winfrey's own remarkable career attests, the old have already outlived the racism of the America they were born into. Today such intolerance is rarer than ever. Which is why the ugliest examples of hate crimes now all too often turn out to be hoaxes.
(Jeff Jacoby is a columnist for The Boston Globe).
-- ## --
Follow Jeff Jacoby on Twitter.

"Like" Jeff Jacoby's columns on Facebook.