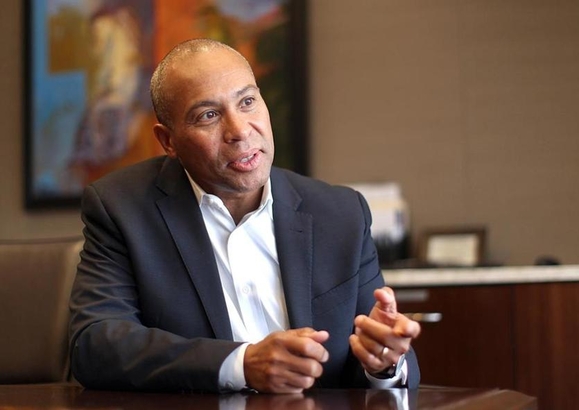 IF DEMOCRATS are inclined in 2020, as they were in 1960, 1988, and 2004, to nominate a presidential candidate from Massachusetts, they could do a lot worse than choose former governor Deval Patrick, who told an interviewer recently that a bid for the White House "is on my radar screen."
Patrick, the Bay State's first black governor, left Beacon Hill in January 2015. He had conscientiously served out two full terms without trying to use the job as a springboard to higher office or a presidential appointment. That can't be said of any other Massachusetts governor in the last half-century. If nothing else, it attests to Patrick's steadiness and his ability to focus on the job at hand, qualities Democrats might find especially appealing as they seek a challenger to (presumably) Donald Trump.
Patrick has other qualities that could attract voters weary of Trump's bombast and insults. He is graceful, friendly, charismatic, and well-spoken. Unlike some Democratic politicians — the senior senator from Massachusetts, who touts her willingness to "throw rocks" and to leave "plenty of blood and teeth on the floor," comes to mind — Patrick isn't bellicose or discourteous, and he doesn't degrade the quality of public discourse every time he appears before TV cameras.
At the same time, he's no pushover. Though Patrick had never run for any public office before announcing his candidacy for governor of Massachusetts in 2005, he convincingly defeated two strong opponents in the Democratic primary. Then he went on to win a three-way general election with nearly 56 percent of the vote. In so doing, he became the first Democrat to capture the governorship of Massachusetts since Michael Dukakis left office 16 years earlier.
To be sure, there is plenty in Patrick's record for opponents to tear into should he run for president. No one serves two terms as governor without committing blunders, breaking promises, and generating controversy, and Patrick did his share of them all. There was his ham-fisted attempt, fortunately unsuccessful, to jack up taxes by $1.9 billion. There was the breakdown of the state's health-insurance website. There was the turmoil at the Department of Children and Families, which failed to prevent the deaths of three children. There was the egregious "buffer zone" law barring free speech near abortion clinics, unanimously struck down as unconstitutional by the US Supreme Court.
There were also some noteworthy successes, among them the deregulation of Massachusetts automobile insurance rates, which unleashed robust competition among insurers and lowered motorists' costs.
All of that and more will be grist for the political mill if Patrick throws his hat into the presidential ring. So will his years in the business world — he worked at Texaco and Coca-Cola before he was governor, and took a position with Bain Capital afterward. Unlike Warren and the socialist senator from Vermont who stirred up such a fuss in 2016, Patrick calls himself a "capitalist" and has defended the wisdom of markets.
But perhaps nothing about a Patrick run would be more salient, to both fans and foes, than the perception that he would represent the return of Barack Obama.
When Patrick first ran for governor, a bumper sticker making the rounds promised (or warned): "If you liked Dukakis, you'll love Deval." If Patrick jumps into the presidential race, expect to see a new sticker: If you liked Barack, you'll love Deval.
Patrick and Obama have long been confidants, so close, it was discovered in 2008, that Obama incorporated Patrick's words and phrases into his own stump speeches. "Deval and I do trade ideas all the time," Obama has said, and at least two former Obama insiders, Valerie Jarrett and David Axelrod, are reportedly encouraging Patrick to run for the White House. If the former governor takes the plunge, he will doubtless be able to count on the support of his old friend — and will surely be identified with him.
This far out, of course, speculation about 2020 is mostly wind. No one can know how Patrick would hold up in the marathon of a presidential campaign. What we do know is that he is a mensch, and that he knows how to disagree in politics without being disagreeable. These days, that's no small thing.
(Jeff Jacoby is a columnist for The Boston Globe).
-- ## --
Follow Jeff Jacoby on Twitter.

"Like" Jeff Jacoby's columns on Facebook.
Want to read more Jeff Jacoby? Sign up for "Arguable," his free weekly email newsletter