"WHY SO GLOOMY?" asks the headline over Richard Lindzen's guest commentary about global warming in the current issue of Newsweek. The cover of the magazine features a dire warning — "Save the Planet — Or Else" — but Lindzen, a world-class climate scientist at MIT, doesn't buy it.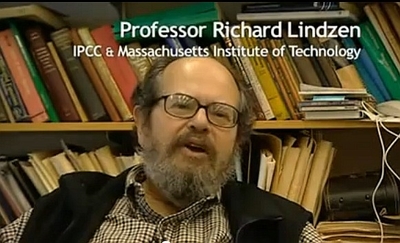 Yes, he writes, the planet has warmed a bit, and human-generated greenhouse gases may be partly responsible, but that is hardly cause for panic. Alarmism over global warming may be in vogue, but climate change is normal — "the earth is always warming or cooling by as much as a few tenths of a degree a year." The current fearmongering "rests on the false assumption not only that we live in a perfect world, temperaturewise, but also that our warming forecasts for the year 2040 are somehow more reliable than the weatherman's forecast for next week."
Though you'd never know it from Al Gore's movie or the latest National Resources Defense Council press release, most long-range global-warming forecasts rely on computer models that Lindzen describes as "inherently untrustworthy." There is still much about climate dynamics that science cannot explain. One puzzle is why temperatures climbed for two decades before 1940, yet dropped during the decades of the postwar boom, when carbon-dioxide emissions were so much greater.
But to global-warming True Believers, Lindzen's essay is just one heresy after another. It suggests that "a warmer climate could prove to be more beneficial than the one we have now." That extreme weather events might actually be less likely in a warming world. That higher levels of CO2 could be a boon to agriculture. And that a warmer planet is preferable to a colder one. ("Exposure to cold," he writes, "is generally found to be both more dangerous and less comfortable.")
Lindzen is not the only climate expert to express skepticism about global-warming doomsaying — not by a long shot. But so pervasive is the alarmist narrative that anyone who dissents from it can expect to be smeared as a shill for polluters or compared to a Holocaust denier. So perhaps Newsweek was just trying to do Lindzen a favor when it ran this credit line following his piece: "Lindzen is the Alfred P. Sloan Professor of Meteorology at the Massachusetts Institute of Technology. His research has always been funded exclusively by the US government. He receives no funding from any energy companies."
The implication is about as subtle as a two-by-four. Apparently Lindzen's scientific and professional credentials aren't enough to lend authority to his views; readers must be explicitly reassured that "energy companies" haven't paid him off.
Well, if that's what it takes to keep climate-change commentary on the up-and-up, fine. But if scientists who take a non hysterical approach to global warming are going to be scrutinized for ulterior motives, shouldn't we be just as suspicious about the alarmists? There is no shortage of incentives, after all, for those who paint global warming as a deadly and growing peril.
To begin with, staggering sums of money are channeled to researchers who emphasize the human role in global warming. The greater the sense of anthropogenic crisis, the greater the flow of research grants to address it. And it isn't only government that ladles out the dollars. Last year, Virgin Atlantic Airways founder Richard Branson pledged $3 billion to fight global warming; more recently he offered $25 million for the first person who devises a way to annually remove a billion tons of CO2 from the atmosphere. In 2002, ExxonMobil announced a $100 million grant to establish a Global Climate and Energy Project at Stanford University for research into "the potential long-term risk of climate change." Last week, yet another pot of cash was established to deal with global warming. Are experts who raise alarms about global warming being unduly influenced by such funding?
What about the lucrative and prestigious prizes global-warming alarmists have received? NASA's James Hansen, a prominent global-warming Cassandra, won a $250,000 Heinz Award in 2001. Last month he was a co-winner of the Dan David Prize and its $1 million purse. Other awards have gone to other prophets of doom. And the potential rewards don't stop there. For those who toe the politically correct line on global warming, there have been big book contracts, hefty speaking fees, worshipful magazine profiles, softball TV interviews. Should any of that call their objectivity into question?
Our global-warming debate is contentious enough as it is. The last thing we need is to be disparaging the integrity of every scientist who takes a strong stand either way. Tempting though it may be to think otherwise, not every true believer is a scoundrel — and not every heretic is a shill.
(Jeff Jacoby is a columnist for The Boston Globe).
-- ## --
Follow Jeff Jacoby on Twitter.

"Like" Jeff Jacoby's columns on Facebook.