WHEN THE CENSUS BUREAU announced last week that white Americans would dwindle to less than half of the US population within a generation, the media quickly spread the word.
"A new census report says that whites in the US will be a minority by the year 2042," announced NPR's Farai Chideya, while over at CNN Tony Harris proclaimed that "the complexion of America is changing and a lot faster than you think: In just 34 years, the Census Bureau says whites will no longer be a majority in this country." The Associated Press moved a story headlined "White Americans no longer a majority by 2042." In the Wall Street Journal, a graph depicted the "declining share" of whites in three age groups -- three lines sloping sharply downward. Once again, the government's unhealthy obsession with sorting people into categories based on color and ancestry was in the news.
But there was another problem with all this coverage of how white America is rapidly becoming a minority: The Census Bureau never actually said it.
No need to take my word for it -- you can see the numbers for yourself on the Census Bureau website. In a spreadsheet titled "Projections of the Population by Race and Hispanic Origin for the United States: 2008 to 2050," the bureau forecasts a rise in the number of whites from about 243 million today to 325 million at midcentury -- an increase of 82 million. A related spreadsheet gives the percentages: Whites today account for nearly 80 percent of the US population. In 2050, they'll constitute 74 percent -- somewhat less, but still a very hefty majority.
So what explains the persistent drumbeat about the impending white minority? A statistical distortion: the exclusion of Hispanic whites. If only non-Hispanic whites are counted, the white population today amounts to 66 percent of the total, and will fall to around 46 percent by 2050.
But excluding whites of Hispanic origin from the overall white population makes no more sense than excluding whites of Slavic or Scandinavian origin. "Hispanic" is not a race. It is an ethnic category. As the Census Bureau repeatedly points out, Hispanics can be of any race. In the 2000 census, 48 percent of Hispanics identified themselves as white; Harvard sociologist Orlando Patterson has characterized them as "white in every social sense of this term." Bottom line: Of the 46.6 million Hispanics in the United States today, at least 22 million are white -- even if it suits some people's racial or political agenda to pretend otherwise.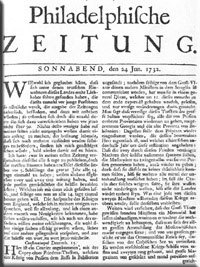 Front page of Pennsylvania's Philadelphische Zeitung, 1732. Another German-language paper, the Pennsylvanischer Staatsbote, was the first to report on the signing of the Declaration of Independence in July 1776.
On both right and left, there are pressures to treat Hispanics as a distinct racial category. Many on the left covet the political attention and affirmative-action largesse that comes with minority-group status. In some quarters of the right, meanwhile, immigration alarmists warn that Hispanics are overwhelming the nation's "white" culture, dissolving the bonds of language and patriotism on which American civilization depends.
One of the lessons of US history is that racial categories are anything but meaningful scientific classifications. For generations, "whites" have been hearing that they are about to be engulfed by unassimilable foreign races, and for generations those "races" have gone on to become -- white! Benjamin Franklin worried mightily about the threat posed to white American culture by the influx of German immigrants. "Why should Pennsylvania, founded by the English, become a Colony of Aliens," he demanded in a pamphlet published in 1751, "who will shortly be so numerous as to Germanize us instead of our Anglifying them? Those "swarthy" Germans, Franklin was quite sure, "will never adopt our Language or Customs, any more than they can adopt our Complexion."
A century and a half later, Senator Henry Cabot Lodge witheringly described the Russians, Poles, and Greeks entering the country as "races with which the English-speaking people have never hitherto assimilated, and who are most alien to the great body of the people of the United States." In the early 20th century, federal immigration officials classified the Irish, Italians, and Jews as separate races. Yet today all these groups are viewed collectively, and benignly, as "white."
And so in time, we may hope, will Hispanics, who give every indication of being just as assimilable as earlier groups. Most third-generation Hispanic Americans, for example, marry non-Hispanics. The overwhelming majority speak English -- in many cases, only English. With a little luck, common sense, and goodwill, it will seem as odd in 2050 to focus on "non-Hispanic whites" as it would today to insist that only "non-German whites" are really white.
Better still, perhaps by then we will have really progressed, and abandoned the pernicious notion of racial categories altogether.
(Jeff Jacoby is a columnist for The Boston Globe).
-- ## --
Follow Jeff Jacoby on Twitter.

Join the Fans of Jeff Jacoby on Facebook.