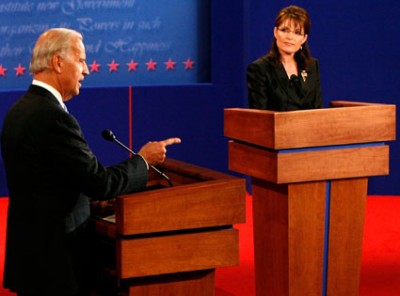 Senator Joseph Biden and Governor Sarah Palin debate at Washington University in St. Louis Thursday night
JOE BIDEN was in fine form last night. He was clear and focused; he came across as empathetic, knowledgeable, and passionate; he took tough shots at his opponent, yet remained courteous and engaging throughout.
In other words, he was exactly what you'd expect of a man who has served in the US Senate for more than 35 years and run for president twice.
But Sarah Palin was incredible. She turned in a performance that would have done any vice presidential nominee proud -- and she did it after less than six weeks in national life, and having never before debated in front of a national audience. She was strong, well-spoken, intelligent, an obvious quick study, and not in the least intimidated by her opponent's decades of experience.
The expectations for Palin going into last night's debate could hardly have been any lower. Yet the Palin who showed up for last night's debate was poised and well-spoken, confident when she knew her stuff, and cheerfully feisty even when she didn't.
It was a debate that ranged over a very wide array of topics - from subprime mortgages to Afghanistan to benefits for same-sex couples - and no one could have expected Palin to have mastered every detail of every subject. What she conveyed beautifully wasn't policy wonkery: It was reasonableness, groundedness, common sense, and intelligence leavened with good humor and real-life connections.
The humor flashed repeatedly. To Biden's complaint that John McCain's energy mantra seems to be "Drill, drill, drill," Palin replied: "The chant is 'Drill, baby, drill!' " When asked about possible disagreements between her and McCain, she laughed. "What do you expect - a team of mavericks? Of course we're going to disagree!"
Palin did herself and her ticket proud last night. Can McCain handle himself with equal aplomb in his remaining two debates? His running mate has just raised the bar.
Jeff Jacoby can be reached at [email protected].