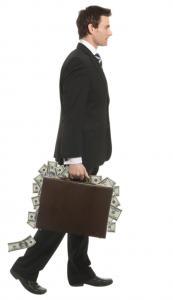 THE SPECIAL COMMISSION ON PENSION REFORM, which convened for the first time yesterday -- six months past the deadline specified under Massachusetts law -- comprises nine public employees, one retired public employee, three officials from the public-employee retirement systems, and two economists from private universities. By my reckoning, that makes 13 commission members from the public sector and two from the private sector, which calls to mind the old jape about democracy being two wolves and a sheep voting on what to have for dinner. It's an amusing quip, assuming you're not a sheep.
The special commission is only the latest group to cast a critical gaze at the state's woeful public-employee pension system. In February, the House Special Committee on Pensions issued its report and recommendations -- not to be confused with the earlier report and recommendations of the Blue Ribbon Panel on the Massachusetts Pension Classification System, or with the White Paper on Public Pensions prepared by the Pioneer Institute in 2006.
On Monday, meanwhile, Senate President Therese Murray put forth her own package of suggested pension reforms. That was about a week after Governor Deval Patrick had outlined his plan. For the layman, keeping up with this parade of public-pension panels and proposals can be a challenge.
It can be even more challenging -- it is certainly more maddening -- to keep up with the seemingly endless train of public-pension abuses.
The latest outrage, exposed by Sean Murphy in Sunday's Boston Globe, comes from the working-class city of Revere, where most members of the city council have figured out a way to collect full pensions while continuing to take a city paycheck.
"One councilor began collecting his city pension without retiring," Murphy reported. "Two others left the council, began collecting their retirement benefits, and returned to the council with no interruption or reduction of their pensions. Some have tacked extra years onto pensions with just a few days' work. They also have used annual bonuses that accumulate for multiple years of service, called 'longevity pay,' to pad their pensions and council salaries simultaneously.... The combined take for some councilors is more than $85,000 a year." The work is not exactly strenuous: In the course of a year, City Council meets an average of four hours per week.
These pension-abuse stories are never complete without a disobliging brush-off from one of the abusers, and Revere's eminentoes didn't disappoint. "I take what is given to me -- that's my stand on it," Councilor George Colella told the Globe.
That has been the attitude for years -- the attitude of MBTA employees who retire with full pensions after working just 23 years; the attitude of retirees who get pension credit for volunteering as library trustees or town moderators; the attitude of ex-lawmakers whose pensions soar when they are defeated for re-election or quit under an ethical cloud; the attitude of Boston firefighters whose tax-free disability pensions are fattened if they claim to have been injured while filling in for a supervisor; the attitude of the scores of government retirees who collect annual pensions of $100,000 and up. Like Colella, they will all gladly take every nickel the taxpayers can be coerced or gulled or manipulated into giving.
For years the political class has taken care of its own at taxpayers' expense, which is why so many former public employees enjoy retirement perks far more lucrative than anything typically found in the private sector. "The nation is dividing into two classes of workers: those who have government benefits and those who don't," USA Today noted in 2007. "The gap is accelerating in every way -- pensions, medical benefits, retirement ages."
All of that was galling enough when the economy was strong and the Dow was flying high. Now -- in the midst of deep recession, with the market prostrate, millions out of work, and retirement portfolios worth far less than they used to be -- it is infuriating. Beacon Hill's worthies can feel the growing backlash; that is why they declare so solemnly that pension reform is a "priority."
Well, declarations are easy. True reform -- not merely plugging the most egregious abuses uncovered by the media, but thoroughly overhauling the public-pension system -- will be much harder. Sweet-talking the sheep won't do the trick. Beacon Hill needs to slay some wolves.
(Jeff Jacoby is a columnist for The Boston Globe.)