MAHMOUD AHMADINEJAD announced on Sunday that for the first time since the 1979 revolution, women will be named to the Iranian cabinet, a development the news media promptly described as a bid "to soften his hardline image" and to "mollify the opposition . . . while currying favor with women." Some people will believe anything, so presumably somebody somewhere is taking at face value Ahmadinejad's claim that from now on things are going to be different in Iran. "We have entered a new era," he said on state television. "Conditions changed completely and the government will see major changes."
It would be pretty to think so. But meaningful change to Iran's theocratic government will not be coming from Ahmadinejad or the cutthroat mullahs he answers to. His first female cabinet choices -- Fatemeh Ajorlou for the social welfare ministry and Marzieh Vahid Dastjerdi for the health ministry – are as hardcore as the men already in power in Tehran. According to Massoumeh Torfeh, an Iran specialist at the University of London's School of Oriental and African Studies, both nominees are supporters of "draconian changes to family laws" that would further diminish the rights of women in cases of divorce and child custody. Ajorlou, moreover, is "a notorious advocate of punishment of women who ignore the dress code" and "was influential in setting up the Basij Sisters militia, which has been involved in brutal attacks and arrests of women's rights activists."
If this is the regime's strategy for "currying favor with women," what would a strategy for alienating them look like?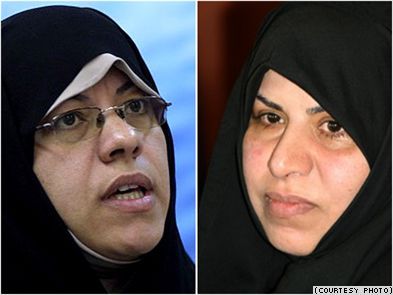 Fatemeh Ajorlou (left) and Marzieh Vahid Dastjerdi are the first women named to the Iranian cabinet since the Islamic revolution in 1979.
Islamist power in Iran, like Islamist power everywhere else, has been a disaster for women: That is the blunt truth that no public-relations maneuvering can disguise. It has been less than two months since 26-year-old
Neda Agha Soltan
was cut down, reportedly by a Basij gunman, during the post-election protests in June – protests that brought tens of thousands of women opposed to Ahmadinejad's presidency into the streets of Tehran and other Iranian cities. Neda -- whose graphic murder,
captured on video
, was viewed by millions around the world -- is
a far more potent symbol
of what Islamist rule means for women than the chador-clad hardliners being named to the Iranian cabinet.
The misogyny of radical Islam is not a peripheral distortion, but a key element of the society Islamists aim to create. The Iranian-born journalist Amir Taheri recalls that one of Ayatollah Ruhollah Khomeini's last sermons dealt with "three threats" confronting Islam: America, Jews, and women. Women organized the first mass demonstration against the new Khomeini regime in 1979, Taheri writes. In the years that followed, "the authorities imprisoned hundreds of thousands of women . . . and executed thousands."
By now, 30 years into the Khomeinist theocracy, a voluminous literature documents the repression of women under the mullahs. Some of it is matter-of-fact and impassive, such as the 2006 United Nations report finding that "violence against women in the Islamic Republic of Iran is ingrained" and that many Iranian women "feel compelled to tolerate violence inflicted not only by their husbands but also by other family members, for fear of shame, of being ostracized, or of being divorced, and for lack of alternatives to the abusive environment." Other accounts, considerably more wrenching, include Freidoune Sahebjam's heartstopping The Stoning of Soraya M., Zarah Ghahramani's My Life as a Traitor, and Marina Nemat's acclaimed Prisoner of Tehran.
It is difficult to overstate the cruelty and depravity to which women and girls can be subjected in Ahmadinejad's islamist paradise. In an interview with the Jerusalem Post last month, a Basij militiaman explained how the regime's devout thugs deal with young females sentenced to die:
"In the Islamic Republic it is illegal to execute a young woman, regardless of her crime, if she is a virgin, he explained. Therefore a 'wedding' ceremony is conducted the night before the execution: The young girl is forced to have sexual intercourse with a prison guard -- essentially raped by her 'husband.'"
When he was younger, the militiaman had taken part in such "weddings" -- they were a reward from his superiors for exemplary service -- but now, he said, he regretted them. "I could tell that the girls were more afraid of their 'wedding' night than of the execution that awaited them in the morning. And they would always fight back, so we would have to put sleeping pills in their food. By morning the girls would have an empty expression; it seemed like they were ready or wanted to die."
It will take more than shuffling a few cabinet posts to end the Islamists' grotesque cruelty to the women and girls of Iran. "We have entered a new era," Ahmadinejad says. Not by a long shot.
(Jeff Jacoby is a columnist for The Boston Globe.)