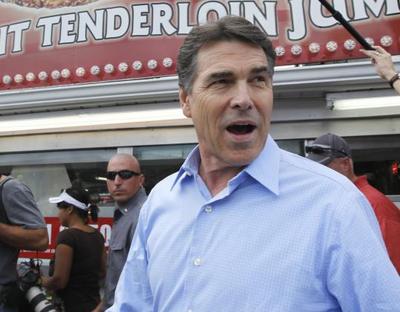 Texas Governor Rick Perry campaigns at the Iowa State Fair.
First of two parts. (Read Part 2 here.)
WHEN TEXAS GOVERNOR RICK PERRY announced his campaign for president last weekend in a speech to the RedState Gathering in Charleston, S.C., he saved his best line until almost the very end. "I'll promise you this," he said to exuberant cheers and applause, "I'll work every day to try to make Washington, DC, as inconsequential in your life as I can."
To a Democrat steeped in the big-government tradition of the New Deal and the Great Society, there could hardly be a greater heresy.
For liberals, perhaps the only thing more absurd and disagreeable than the prospect of a Washington with radically reduced influence in American life is a presidential candidate pledging to make that reduction a priority. MSNBC's Chris Matthews, a former Jimmy Carter speechwriter and aide to Tip O'Neill, characterized Perry's applause line is nothing less than a call for anarchy. The governor is saying "not just that the era of big government is over," Matthews hyperbolically told his "Hardball" viewers on Monday, "he's saying the era of government is over. . . . Let's get rid of the government, basically."
But to countless libertarians and free-market conservatives, it is exhilarating to hear a candidate talk this way. And why wouldn't it be? After all, large majorities of Americans consistently say they don't trust the federal government and have little faith in the ability of Washington's immense bureaucracy to solve the nation's problems. In promising to curb Washington's outsize authority, Perry is responding to an alienation from government that is very much a Main Street phenomenon.
It is also a relatively recent phenomenon, one that has grown in proportion with the federal establishment's self-aggrandizement. As Charles Murray has written, the more Washington has tried to do, the less it has done well -- including the relatively few functions it used to perform competently. It is only natural that there should be such widespread frustration with the intrusive, expensive federal behemoth -- all the more so when efficient and attractive private alternatives (such as e-mail instead of snail mail) make clear just how apathetic and ungainly big government tends to be.
Over the past half-century, Washington has insinuated itself into a thousand-and-one decisions that individuals or local governments are more than capable of making for themselves. Which medicines can you buy? How efficient should your lightbulbs be? Can your children's schoolday begin with a prayer? Who qualifies for a mortgage? When do unemployment benefits run out? Can you pay an employee $5 an hour if that's what his labor is worth? Should abortions be restricted? Is health insurance optional? Do artists or farmers or broadcasters require subsidies? Are you in charge of your retirement income?
In Federalist No. 45, James Madison emphasized that under the Constitution, the powers of the federal government "are few and defined," while those left to states and local communities "are numerous and indefinite." For the first 150 or so years of US history that was largely the case. But New Deal/Great Society liberalism has turned the Framers' careful arrangement inside out. Today, there is almost nothing in American life that Washington does not consider itself fit to regulate, control, ban, tax, or mandate.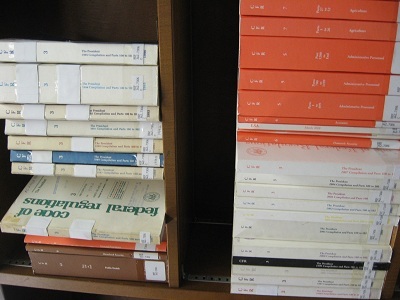 Part of the Code of Federal Regulations, seen here on the shelves of the Mid-Manhattan Library. There is almost nothing in American life today that Washington does not consider itself authorized to regulate, ban, or mandate.
Former US Senator James Buckley, now a senior judge on the US Court of Appeals for the DC Circuit, points to the massive enlargement of Title 42 of the United States Code, which comprises laws dealing with health and public welfare. Between 1960 and 2010, Title 42 metastasized from 403 pages of statutory language to more than 6,300. Title 42, bear in mind, is just one of 50 titles in the US Code.
Has the staggering growth of the federal establishment made America a better, more humane, more optimistic place to live? Obviously it is possible to single out this or that law or regulation or expenditure and show that it has been beneficial. Not even the most ardent libertarian disputes the need for federal governance of inherently national matters -- and the Constitution itself makes clear that Washington has a role to play in guaranteeing civic equality and political liberty.
Yet in crucial ways, the flow of power upward to Washington has impoverished American culture and weakened civic society. A presidential candidate who was serious about making Washington less consequential in the lives of Americans would render his nation a great service. Whether Perry is really that candidate, of course, remains to be seen.
Next: Why local is better than national
(Jeff Jacoby is a columnist for The Boston Globe).
-- ## --
Follow Jeff Jacoby on Twitter.
Discuss his columns on Facebook.
Want to read more? Sign up for "Arguable," Jeff Jacoby's free weekly email newsletter.