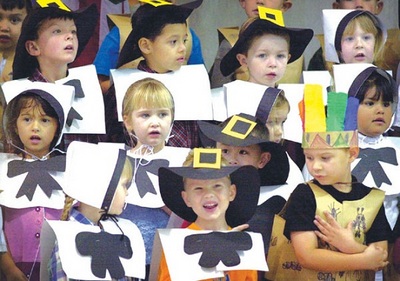 WITH OUR music teacher, Mrs. Feigenbaum, at the piano playing the melody – the Toreador's Song from the opera Carmen – and the lyrics handed out to us on mimeographed pages, my 4th-grade classmates and I practiced one of the songs we were learning for our school's Thanksgiving assembly:
Thanksgiving Day comes once each year
Our president proclaims it far and near.
Thankful for the bounty of our land,
The harvest that makes this nation grand,
Bestowed us from above,
God bless this land,
This precious land we love.
I was a student at the Hebrew Academy of Cleveland, a Jewish day school where half of the curriculum was devoted to religious studies and the school year conformed to the Jewish calendar. Most of the kids in my class came from Orthodox Jewish homes, and many of us were the children of Eastern European immigrants who spoke Yiddish more fluently than they spoke English.
Yet there we were, kids whose parents may have gotten off the boat only 10 or 15 years earlier and whose family life bore little resemblance to The Patty Duke Show, singing songs about the Mayflower and turkey dinners without a hint of irony. The inculcation of Jewish values and learning was the Hebrew Academy's chief priority, but it was understood that raising kids to be good Jews went hand-in-hand with raising them to be good Americans. Parents and teachers alike took it for granted that the story and traditions of Thanksgiving (or Columbus Day or Washington's Birthday) should be as familiar a part of our cultural identity as the Passover story and its traditions.
I didn't know it at the time, but what my classmates and I were experiencing was the classic model of American assimilation: the process by which immigrants and ethnic minorities, and the children of those immigrants and minorities, had for decades been successfully turned into Americans. In a world filled with ethnic antagonism and religious violence, the United States had found a paradigm for unifying the most ethnically, racially, and religiously varied population on the planet into a relatively tolerant and unified culture.
We rarely reflect on what an astonishing achievement this was. But how many other societies have managed to maintain national cultural unity in the midst of ethnic diversity? Cyprus? Rwanda? Sri Lanka? The former Yugoslavia?
The key to what Peter Salins, a scholar at the Manhattan Institute, calls "assimilation, American style" was a balancing act. On the one hand, newcomers streaming to the United States found out quickly that they were expected to become honest-to-God Americans. That meant learning English, getting a useful job, embracing America's democratic values and institutions, and eventually taking the oath as new citizens.
On the other hand, immigrants weren't obliged to shed their ethnic pride, or to drop the foods and customs and festivals they brought with them from their native land. They were free to be "as ethnic as they pleased," writes Salins. The goal of assimilation was not to make all Americans alike; it was to get newcomers, however dissimilar their backgrounds and cultures, to believe that they were "irrevocably part of the same national family."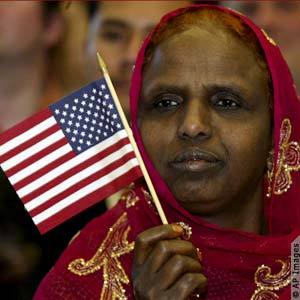 There was one other key ingredient, which we too easily overlook. Immigrants understood that the country they had come to was in some indispensable way better than the one they had left. They might retain a soft spot for the scenery or clothing or rhythms of life in the old country, they might always prefer their mother tongue to English, they might even pay tuition at a private or parochial school so that the religious or linguistic values they had grown up with would be passed on to their kids.
But underlying everything would be the awareness that they had chosen to be Americans. America was better than their native land — perhaps because their homeland's rulers were corrupt, or because it was riven by war, or because economic opportunities were limited. Perhaps, as in my father's case, because totalitarian tyrants – first Nazis, then Communists – had made life there a hell on earth. Perhaps because, like the Pilgrims, they sought a peaceable society where they could worship as they saw fit without being "hunted and persecuted on every side."
As my fellow 4th-graders and I belted out the lyrics to another song — "P-I-L-grim fathers landed here on Plymouth Bay" -- we probably assumed that Mrs. Feigenbaum was just getting us ready for the Thanksgiving assembly. She knew, of course, that she was doing something far more important. She was getting us ready to be Americans.
(Jeff Jacoby is a columnist for The Boston Globe).
-- ## --
Follow Jeff Jacoby on Twitter.
Discuss his columns on Facebook.
Want to read more? Sign up for "Arguable," Jeff Jacoby's free weekly email newsletter