FOR RACISTS, it was a pretty good week. In Union City, N.J., the casting of a black actor as Jesus in the annual Passion play at the Park Theater flipped the bigots into overdrive. Artistic director Eric Hafen had expected some traditionalists to "gasp a little" if they saw "a 6-foot-5 African-American walk out onstage." But the theater was shaken by more than gasps.
When word got out that the lead would be played by a man with dark skin, at least five groups canceled their ticket orders. Another insisted on switching to one of the weekend performances when a white actor fills the role. "I resent the black man playing Jesus," announced one message on the Park Theater's answering machine. Another specified: "I want to see the white actor; I don't want to see that black thing."
The poor shall never cease out of the land, we are told. Neither, apparently, shall the fools and the haters. Americans have healed so many of their old racial wounds, but we are still burdened with scoundrels who believe that the best measure of a man is his color.
Happily, the New Jersey bigots didn't have the last word. According to the New York Post, the Park Theater has been buoyed by a surge of sales "as people outraged by the racism scramble for tickets." Calls of support have poured in from all over.
But in Amherst, Mass., last week there was no such silver lining.
In the first of two victories for those who judge people by the color of their skin, not the content of their character, the Fort River Elementary School held a breakfast to mark the end of Black History Month — and barred white children from taking part. Parents of every color were appalled. "My kids spent the month learning about Rosa Parks being turned away," one mother fumed, "and now they're being turned away by our own principal."
The principal, though, sees nothing wrong with teaching the joys of racial separatism to students in Grades K through 6. "If we had included everybody," Russ Vernon-Jones observes, "there wouldn't have been an opportunity for African-Americans to be together and be the majority." Hey, what good is elementary school if you don't whip up a little apartheid now and then?
Meanwhile, Vernon-Jones is thinking ahead. A school breakfast from which white students are banned is a good start, but why stop there? Next year, how about a second breakfast from which black kids are banned? "We were talking about whether having a European-American breakfast would be an appropriate thing to do," he says, "and I said, 'Yes, it might be.' "
Perhaps Vernon-Jones wants his young charges to grow up as racially inflamed as their older counterparts at the nearby University of Massachusetts.
When it comes to the jaundiced belief in skin color uber alles, few campuses are as advanced as UMass-Amherst. Its admission requirements differ by color, many hires are based on color, and dormitories are segregated by color. Yet the racialists want more. And so for most of last week, scores of UMass students barricaded themselves inside an administration building, refusing to come out until officials agreed to adopt even stricter quotas for students, faculty, and staff.
If UMass had courage or convictions, it would have (1) rejected the brats' Jim Crow demands, and (2) sent in the police to stop the trespass. But UMass has neither, so it caved. The quotas will be implemented. The racists win again.
But nothing last week gave as big a boost to the haters as the grotesque recommendation by a prominent columnist that the Republican Party embrace Louis Farrakhan.
If the head of the Nation of Islam and the GOP "ever got together," wrote Robert Novak, a well-known Washington pundit, "the political landscape would be transformed. Republican aspirations to be a true majority would be enhanced by a foothold among African-Americans." Farrakhan, Novak claimed, "is knocking on the door of the Republican Party. Who will open the door and sit down to talk to him?"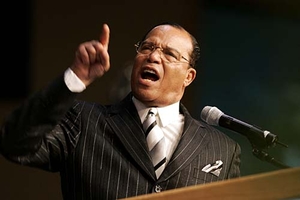 Republicans aren't about to "open the door" to a hateful bigot like Louis Farrakhan.
No rational Republican will take this proposal seriously. Representative Peter King of New York speaks for his party when he says, "Farrakhan is a bigot, a racist. He's evil. We might as well sit down with the Ku Klux Klan's grand dragon."
Yet by merely offering the suggestion, Novak makes it debatable.
Farrakhan is a syringe of hate, injecting racial and anti-Semitic poison into the arteries of American culture. He oozes malevolence. He has allied himself with the most detested dictators on the planet, from the Islamic fanatics in Iran to the slave-trading butchers of Sudan. The paramilitary goons who surround him at all times hint at the Nazi Brown Shirts of the 1930s; not for nothing does Farrakhan openly admire the "greatness" of Adolf Hitler.
Farrakhan is a moral leper, a Mark Fuhrman multiplied by David Duke multiplied by Colin Ferguson. He should be untouchable, irredeemably shunned. Instead, bit by bit, he is slithering into the mainstream. He calls a "million-man march," and some mayors endorse it. He gives a speech, and C-Span airs it. TV news anchors invite him to dinner. Professors assign his books. And now comes Novak, urging the party of Lincoln and Reagan to "open the door" to him. That stupid, the Republicans aren't. But that the proposition can even be floated should make decent people cringe.
And make racists jump for joy.
(Jeff Jacoby is a columnist for The Boston Globe).
-- ## --
Follow Jeff Jacoby on Twitter.