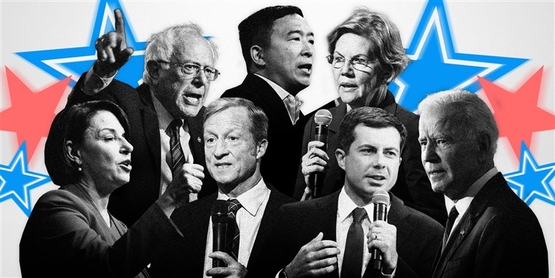 Seven of the Democratic candidates for president took the stage in a debate sponsored by PBS and Politico. They were former Vice President Joe Biden, Senators Bernie Sanders and Elizabeth Warren, and South Bend, Indiana, Mayor Pete Buttigieg, as well as three lower-tier candidates: Senator Amy Klobuchar of Minnesota, entrepreneur Andrew Yang, and billionaire activist Tom Steyer.
There was a moment, just before the end of last night's Democratic debate at Loyola Marymount University in Los Angeles, when Elizabeth Warren seemed to be on the point of directly answering an awkward question.
One of the PBS moderators had asked the debaters if, in the spirit of the season, there was another candidate on the stage to whom they would like to give a gift or from whom they wished to ask forgiveness. Andrew Yang cheerfully offered to give each candidate a copy of his book. Pete Buttigieg lamely announced that his "gift" would be for "literally anybody up here to become president." Then Warren, looking earnest, said she was going to ask for forgiveness.
"I know that sometimes I get really worked up," the Massachusetts senator began. "Sometimes I get a little hot." But that, she said, is because when you take 100,000 selfies with fans on the campaign trail, you hear a lot of sad stories, like the one about the people in Nevada who have to split their insulin three ways. "And that's why I'm running."
So whom would she ask for forgiveness? Warren never actually got around to answering that question.
It wasn't the only question she never actually got around to answering.
Early on, Warren was asked about critiques of her much-touted plan to soak the rich with steep new wealth taxes. Many analysts — including former Treasury Secretary Larry Summers and experts at the University of Pennsylvania's Wharton School — have been pointing out significant shortcomings in her plan, which would raise far less revenue than she claims and inflict considerable damage to the economy. How, Warren was asked, would she answer "top economists" who say her tax plan would stifle growth and investment?
"Oh, they're just wrong," she asserted. But she didn't respond to any of their arguments. She merely pivoted to her standard talking points about all the pie in the sky her "two-cent" tax will pay for.
At another point, the candidates were asked to answer Barack Obama's recent jab that the world's problems are usually caused by "old people . . . not getting out of the way." How would Warren — who, if elected, would be the oldest president in history — answer legitimate concerns about age? The senator tossed off a quip ("I'd also be the youngest woman ever inaugurated"), but then ducked the question and talked about her 100,000 selfies.
Why is Warren proposing free college tuition even for the wealthy? No answer. If Warren donated to Buttigieg's campaign, would the fact that she's a millionaire "pollute" his campaign? No answer.
For a long time, Warren has been laboring to sell herself as the candidate with all the answers. Instead, she's acquired a reputation as the politician likeliest to duck tough questions. In last night's debate, Warren had plenty of sass and attitude and stage presence. What she didn't have, even after all these months, was the courage to give clear answers to direct questions.
(Jeff Jacoby is a columnist for The Boston Globe).
-- ## --
Follow Jeff Jacoby on Twitter.
'Like' Jeff Jacoby's columns on Facebook.
To subscribe to Arguable, Jeff Jacoby's weekly newsletter, go to bitly.com/Arguable.