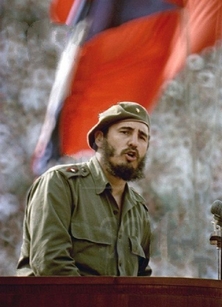 WHAT MAKES COMMIES so cuddly? What is it about them that gives so many people the warm-and-fuzzies? I've never felt the rosy glow that Bolsheviks seem to evoke in others, so I'm in the dark on this. There must be something lovable about those who promote the most evil doctrine since slavery, since smart people are forever fawning over and snuggling up to them. I just can't imagine what it is. Wherever Communists rule, after all, the results are poverty, misery, refugees and death. Like Nazis, you might say. Only -- nobody celebrates Nazis anymore. Why are Communists different?
Take dictators. Your basic repressive, rigged-elections, no-free-speech, political-enemies-rounded-up-in-the-middle-of-the-night sort of autocrat usually draws fairly negative PR. When was the last time you heard someone put in a good word for Saddam Hussein? Or Gen. Cedras? Or Mussolini?
But let a tyrant call himself "Marxist," and suddenly he's a soulful revolutionary and a cult hero. Doesn't matter if he's the worst thing that ever happened to his country (which he generally is) and refugees are risking their lives to get out (which they generally are). In America, journalists and academics and Pete Seeger will line up to sing his praises and denounce his foes.
Fidel Castro, for instance. For 36 years, "progressive" Yanquis have tingled with esteem for the Bearded One, never mind that he has turned Cuba into an impoverished rathole where freedom is nonexistent and dissidents are tortured in psychiatric wards. When Mel King ran for mayor of Boston, he declared zanily that he would prefer the government of Castro to that of Ronald Reagan. Time and again, journalists have flown to Havana, interviewed the bloody maniac, then swooned about how charismatic he is and what wonders he has done for Cuba.
"Welcome to Fidel Castro's playground, Cuba's Caribbean paradise . . . a Cuba the comandante is now inviting the world to enjoy," bubbled CBS' Giselle Fernandez not long ago. "Cuba and its sultry beaches have become a major vacation hot spot." Fernandez never rhapsodized about "Pinochet's playground." But then, Pinochet wasn't a Communist, so maybe his beaches weren't sultry.
Communist chic can make even the most homicidal thug seem appealing and full of charm. "I like old Joe," chuckled Harry Truman in 1948, by which point Joseph Stalin had killed perhaps 50 million people and slammed an Iron Curtain across Europe. "He is a decent fellow."
Ted Kennedy gushed that Leonid Brezhnev -- a leading practitioner of state terror, the tyrant who sent the tanks into Prague and Sakharov into exile -- was "a warm individual, highly intelligent, highly aware, a sense of humor, completely at ease, very informal . . . completely committed to peace." Add a beard and a red suit, and you've got Santa Claus. When Yuri Andropov, the head of the KGB, succeeded Brezhnev, reporters approvingly noted that he enjoyed jazz and drank Scotch. Anybody ever bother finding out what kind of music Franco liked?
The Bolsheviks lost the Cold War, but in elite circles they have lost none of their dazzle.
In 1993, the Globe ran an admiring magazine cover story on Gus Hall, general secretary of the Communist Party of the USA. "Pure," it called him. "Unbowed . . . resilient . . . optimistic . . . sturdy . . . affable." That came a few months after the admiring article on Communist bookstores in Cambridge. Before that was the admiring article on dejected Sandinista supporters around Boston, glum over the Communists' defeat in Nicaragua. Last fall came the admiring profile of "committed Marxist" Dirk Struik, a retired MIT mathematician who supported the Kremlin during its bloodiest years. More recently still, an admiring look at the Marxist economists who teach at New England colleges.
Can you imagine the Globe -- or any mainstream paper -- printing a glowing story on neo-Nazi activists or white supremacist bookstores?
For that matter, can you imagine the University of Massachusetts naming a library after Ezra Pound, a great American poet who embraced Fascism? The idea is grotesque. Yet UMass is naming a library after W.E.B. Du Bois, a great American writer who embraced Communism, championed racial segregation, supported Stalin, hated the United States, and renounced his citizenship. Excuse me, but why isn't that grotesque, too?
Out on the Left Coast, the University of California at Santa Cruz just bestowed its most illustrious professorship, the Presidential Chair, on Angela Davis. Now here's a role model. Davis was accused of supplying the guns used in the 1970 assault on the Marin County Courthouse (during which Judge Harold Haley was shot dead). A Communist Party stalwart, she spent years shilling for the Soviets, and was rewarded by Moscow with the 1979 Lenin Prize. Her tracts are filled with raw anti-American propaganda. If she were a right-winger, we'd be calling her a paranoid militia member. Since she's a Commie, we'll just call her: "Professor."
In all of human history, no "ism" has spilled more blood or crushed more souls than Communism. How queer it is that the architects of so much horror, and those who aided and abetted them, should be so admired and flattered by free Americans. How queer -- and how sick.
(Jeff Jacoby is a columnist for The Boston Globe).
-- ## --
Follow Jeff Jacoby on Twitter.

"Like" Jeff Jacoby's columns on Facebook.
Want to read more Jeff Jacoby? Sign up for "Arguable," his free weekly email newsletter