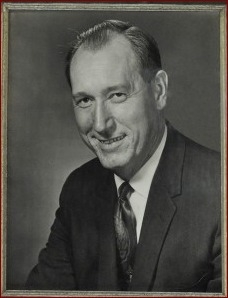 Law professor Daniel G. MacLeod
IT WAS THE first class of the first day of our first year of law school. Civil Procedure, Section D. We sat there a bit nervously, 90 of us, on that late-August morning in 1979. Our legal education at Boston University was about to begin, and few of us knew what to expect.
From the rear of the room the professor entered -- a thin, older man wearing a brown suit and a dour expression. He walked to the podium and looked out at us, unsmiling. The room was dead silent. He peered down at his class list. He looked at us again. And then he spoke.
"Miss Moore. Capron against Van Noorden, please.'"
After all these years, I don't remember whether Mary Lee Moore was ready with the facts of Capron v. Van Noorden, an 1804 Supreme Court case dealing with subject matter jurisdiction. (The lower court lacked it, so its judgment was reversed.) But I have never forgotten that first hour of law school, nor my first and best law school professor, Daniel G. MacLeod.
During my three years at Boston University he taught three courses, and I took all three -- Civil Procedure, Labor Law, and Labor Relations in the Public Sector. If he had taught seven courses, I would have taken seven. And if he had been a partner in the firm I joined after taking the bar exam, I would probably still be practicing law.
Of all the men and women who taught me in law school, only Professor MacLeod was an inspiration. In 18 years, I never told him that. Now he has died of cancer, and it is too late.
I loved the way he taught law. I'm not sure I can explain exactly why. It's not just that he was smart and interesting and witty. Or that his instruction was bracing and clarifying. Not just that he never wasted a word yet knew how to listen to those who did. And not just that -- first impressions notwithstanding -- he wasn't dour at all, but wry and affable.
Perhaps what made Daniel MacLeod a remarkable teacher of law was that he brought it up from the dirt and down from the sky. In his hands, the law was something more than the rules by which people agree to slug out their differences and something less than a grand Olympian calculus of justice, harmony, and order. All law professors try to blend the abstract with the practical, the how-to with the theory; he was one of the few who succeeded.
What he conveyed to his students -- to this student, anyway -- was that the heart of the law is not found in an invoice of billable hours or the constitutional scaffolding of a Supreme Court brief. It is in the busy intersection where human lives meet human ideals. The job of a good lawyer, legislator, or judge is to advance them both -- without causing collisions that leave people as bruised as their principles.
At an Oct. 13 memorial service in Boston University's Barristers Hall, one of his former students, James C. Rehnquist, spoke of going down to the Superior Court in Fall River to argue a summary judgment motion he was certain would be a "slam dunk." Rehnquist's case was open-and-shut, no facts were in dispute, but the judge denied the motion anyway -- "apparently on the strength of my opponent's argument that his client was a poor man who worked with his hands." As he drove back to Boston, Rehnquist said, he ruefully recalled Professor MacLeod's terse admonition about pleas for summary judgment: "The law says 'shall' -- but I wouldn't be too sure."
In the classroom, he was straight-arrow and spare, but his life was fuller and richer than I had realized. Not until this week did I learn that he had been a master sergeant in General Patton's Third Army, and had served in the US Occupation Force in Germany. I never knew that during his dozen years as a top lawyer in Cleveland, he made time to teach a course for immigrants on American constitutional government. I never knew -- but wasn't surprised to find out, for he was a man of great modesty -- that he had six times been offered Boston University's Distinguished Alumnus Award and had six times declined the honor.
I wish I had gotten to know him as more than a teacher. But I let 18 years slip by with only a couple of phone calls, one or two notes, and a lunch back in the mid-1980s. Word of his death came as a shock. I hadn't even known he was ill.
I am sorry that I never let him know how much his teaching meant to me. But I am sorrier for the legal profession, which has lost an exemplary member, and for the teaching profession, which seems to find it harder and harder to attract individuals of such character and intellect. If more lawyers and academics were like Daniel MacLeod, the world would think better of lawyers and academics.
He was an intensely private man who shunned public acclaim; he would disapprove of this column. But he would be glad, I hope, to know that I still remember the holding in Capron v. Van Noorden.
There are some lessons you never forget. Some teachers, too. Daniel MacLeod was one of them.
(Jeff Jacoby is a columnist for The Boston Globe).
-- ## --
Follow Jeff Jacoby on Twitter.
"Like" Jeff Jacoby's columns on Facebook.
Want to read more Jeff Jacoby? Sign up for "Arguable," his free weekly email newsletter