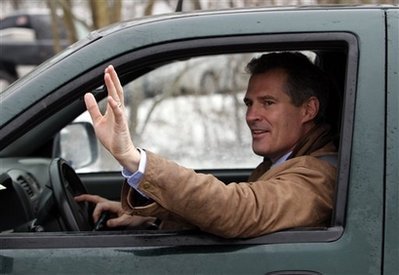 IT REALLY IS the people's seat, and on Tuesday the people of Massachusetts took it back.
But in electing Scott Brown instead of Martha Coakley to replace Ted Kennedy in the US Senate, the Bay State's voters did more than hand the GOP its most improbable and thrilling come-from-behind victory in a generation. They did more than embrace a charismatic, upbeat Republican and reject a dour, gaffe-prone Democrat. And they did more than prove that no political party has a permanent lock on any state's electoral loyalties.
They also gave President Obama and the Democratic left a blessing in disguise -- if only they are wise enough to recognize it.
Brown ran explicitly against Obama's polarizing domestic agenda -- especially the radical health-care overhaul that the president has made his No. 1 priority. Not long ago, such a campaign strategy would have been dismissed as suicidal. But the harder the administration and the Democratic leadership in Congress have pushed their health legislation, the more unpopular it, and they, have grown. At a Coakley rally in Boston on Sunday, it spoke volumes that Obama made not a single direct reference to the health-care bill he has championed -- and that Brown promises to be the 41st vote against.
Politically, ObamaCare has backfired. No president in the modern era has ended his first year in office with disapproval ratings so high. Much of the goodwill with which he entered the White House has been squandered, and any effort to try to force the health bill through Congress now would drive what's left of that goodwill right over a cliff.
But that isn't going to happen. Brown and the voters of Massachusetts have killed ObamaCare for good. In so doing they have given the president a priceless second chance to adjust his political course, move toward the center, and deliver at least some of the bipartisan cooperation that was at the heart of his once-enormous appeal. They have given him that chance, moreover, nearly 10 months before the 2010 midterm elections. If Obama seizes the opportunity that Massachusetts and its likable senator-elect have just given him, those elections need not be a calamity for his party. With some restraint and wisdom now, the brightest days of his presidency may be still to come.
(Jeff Jacoby is a columnist for The Boston Globe).
-- ## --
Follow Jeff Jacoby on Twitter.