IN THE WAKE of the diplomatic fight that the Obama administration went out of its way to pick with Israel last month, two high-ranking members of the US House of Representatives -- Majority Leader Steny Hoyer and Minority Whip Eric Cantor -- invited their colleagues to sign a letter to Secretary of State Hillary Clinton. The letter reaffirmed the signers' commitment to the "unbreakable bond" and "extraordinary closeness" that exists between the United States and Israel, and declared that "our valuable bilateral relationship with Israel needs and deserves constant reinforcement." It expressed dismay at the "highly publicized tensions" between the White House and the government of Benjamin Netanyahu, and pointedly counseled the administration to resolve its differences with Israel "quietly, in trust and confidence, as befits longstanding strategic allies."
The letter was polite, but there was no mistaking the implicit rebuke of the president for treating Israel so shabbily. Nor, one might think, was there any mistaking its bipartisan appeal: It was signed by 333 members of the US House, more than three-fourths of the entire membership.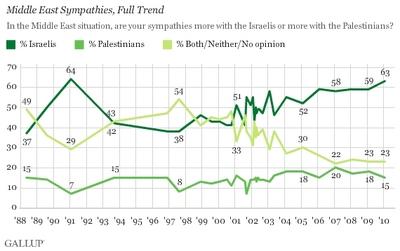 Americans are strongly pro-Israel . . .
The Hoyer-Cantor letter wasn't the only apparent evidence in recent weeks that American friendliness for Israel crosses party lines.
At the national conference of AIPAC, the pro-Israel lobby, for example, two of the featured speakers were US Senators Charles Schumer, a staunch Democrat, and Lindsey Graham, an equally staunch Republican. In a Gallup poll released in February, Israel was one of the five countries most positively viewed by a majority of US citizens: 67 percent expressed a favorable opinion of the Jewish state. And the president's tilt against Israel has been denounced as bluntly by GOP loyalist Liz Cheney ("President Obama is playing a reckless game of . . . diminishing America's ties to Israel") as by lifelong Democrat Ed Koch ("It is unimaginable that the president would treat any of our NATO allies, large or small, in such a degrading fashion.")
Peer a little more closely, however, and the wall of pro-Israel solidarity turns out not to be quite so -- well, solid.
Take that Gallup survey earlier this year, which found that 67 percent of Americans have a favorable view of Israel. The same survey also found that when it comes to the Israeli-Palestinian conflict, 63 percent of the public stands with Israel -- more than quadruple the 15 percent that support the Palestinians. There's not much doubt that the American mainstream is pro-Israel.
But look at the disparity that emerges when those results are sorted by party affiliation. While support for Israel vs. the Palestinians has climbed to a stratospheric 85 percent among Republicans, the comparable figure for Democrats is an anemic 48 percent. (It was 60 percent for independents.) And behind Israel's "Top 5" favorability rating lies a gaping partisan rift: 80 percent of Republicans -- but just 53 percent Democrats -- have positive feelings about the world's only Jewish country.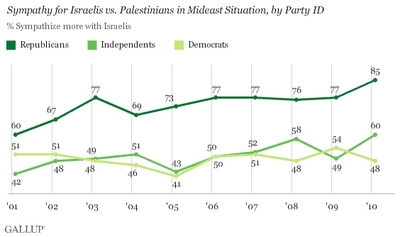 . . . but Democrats increasingly are not.
Similarly, it is true that 333 US House members, a hefty bipartisan majority, endorsed the robustly pro-Israel Hoyer-Cantor letter to Hillary Clinton. But there were only seven Republicans who declined to sign the letter, compared with 91 Democrats -- more than a third of the entire Democratic caucus. (Six Massachusetts Democrats were among the non-signers: John Olver, Richard Neal, John Tierney, Ed Markey, Michael Capuano, and Bill Delahunt.)
From Zogby International comes still more proof of the widening gulf between the major parties on the subject of Israel. In a poll commissioned by the Arab American Institute last month, respondents were asked whether Obama should "steer a middle course" in the Middle East -- code for not clearly supporting Israel. "There is a strong divide on this question," Zogby reported, "with 73% of Democrats agreeing that the President should steer a middle course while only 24% of Republicans hold the same opinion."
Taken as a whole, America's identification with Israel is as stout as ever -- the "special relationship" between the two nations still runs deep. But the old political consensus that brought Republicans and Democrats together in support of the Middle East's only flourishing democracy is breaking down. Republican friendship for Israel has never been more rock-solid. Democratic friendship -- especially now, in the age of Obama -- is growing steadily less so.
(Jeff Jacoby is a columnist for The Boston Globe).
-- ## --
Follow Jeff Jacoby on Twitter.